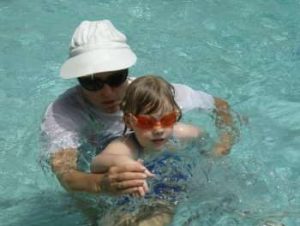 Coach Sally's Swim & Learn is designed to teach swimming and water safety to ages 6 months to adult. The American Red Cross guidelines are the basis for teaching participants to swim independently on top of the water. Safety in and around the water is stressed and taught in a Christian environment.
Group class sizes are limited to four participants to promote hands-on teaching and practice assistance during the lesson. Group classes are one-week 45 minute-session per day, May through mid-August. 
For more information, please explore this website. If you have further questions, please see the Contact Us information below.
Use this link to find out how to Contact Us or to obtain a map to our location.
What People Are Saying About Coach Sally
Our summers begin & end with my grandson's swimming lessons with Coach Sally ~DN
Had an awesome experience for our first session. 4 year old daughter went from not wanting her face to get splashed to swimming with assistance and going completely underneath the water. ~KR
Another great experience with coach Sally. She has now taught 3 of my children water safety and how to swim. ~LP
Coach Sally was a miracle worker for our 4 year old. He was terrified of putting his face in the water. By the end of the week he was swimming on his own. ~TA
You were the perfect teacher for the job and we thank you so much...Thank you  So much. ~ G&M
Coach Sally rocks!! My son is SO proud of his Fish Chart and all his accomplishments this week. See you next summer!!
JO
Personal instruction based on each student's abilities, with emphasis on safety and development of lifelong strengths. I highly recommend this instructor!  ~
JD
My daughter took lessons with Coach Sally in previous summers. Last summer, we decided to try a different place. My daughter did not enjoy it and did not get much out of the lessons because classes were large and there wasn't much individual attention. This year we're back and we couldn't be happier.  ~
HG
We are so grateful we found you! Thanks so much for all you did. ~
ES
In the Parent-Tot class, we really enjoyed the techniques you shared with us & helping us focus on basic skills. Our son just turned 2 in April. He is doing amazing! His skills are already beyond that of older children at the pool. Other parents ask how we got him this far..we tell them about you! ~
AS
Our granddaughter took lessons with Coach Sally and learned discipline in her strokes and dives. This summer, she competed in Junior Olympics in several swim events!! Thank you, Coach Sally for helping her be successful. ~
MG
Coach Sally is amazing! My child loves her and has learned so much in such a short period time. I witnessed her teach a little girl how to swim within a week. Can't wait to take my daughter back and see what more Coach Sally can teach her. Thank You Coach!! ~
TB
Coach Sally, you are a miracle worker! We tell everyone we know looking for lessons to contact you. We'll be back again next year. Thank you for all you do to help children & adults be safe around the water! ~
TL
Thanks for teaching my grandson again this summer. He and I always look forward to his lessons! You teach more than swimming! 🙂 We will see you next summer. You are such a blessing to so many ~
DN
My 11 year old was fearful of water. The one lesson you gave him did the trick and he has been swimming up a storm all summer! Thank you for the awesome lesson! ~
PH
Thank you Coach Sally for teaching us to be safe in the water. We will see you again next summer. ~
EB
We just finished our week of lessons for the second summer and I am so impressed with the skills my daughter has learned and continues to excel in. We will be students of coach Sally for many years to come with all 3 of our girls! Thank you for 2 wonderful years of lessons so far. ~
AP
Today was the first day we had a chance to go to our neighborhood pool and my son passed the swimming test with flying colors! He had to swim the across the pool and tread water for 60 seconds. Coach Sally gave him the tools to have the confidence to do it! Thanks so much Coach Sally! ~ AC
My daughter was eager to show off her new skills to her grandparents. She was able to swim a good distance and retrieve items from the bottom of the pool. They couldn't believe her confidence and the skill she developed in just a week. Thanks again for the work you do! We will see you next year! ~ RS
We LOVE, LOVE, LOVE you, Coach Sally's Swim and Learn! ~ JRH
My boys learned so much! They are now confident when swimming. But more importantly they have learned water safety. I will definitely be back with my youngest! ~
LMP
This is the second summer that my daughter has had lessons with Coach Sally! Wonderful experience! ~
DJB
On Monday my children wouldn't put their faces in the water.... Today is Wednesday and they are SWIMMING!!! I don't know how she did it, but I will forever recommend her services to anyone I meet!!! ~
RW
Coach Sally taught my children & now my 3 year old grandson. We trust her completely. She is patient, yet firm. She compliments their efforts while encouraging them to advance to the next level. Also, of great importance to me, she focuses on water safety and survival skills. It works! ~
TT
We had such a great experience with Coach Sally! My six year old is fearless, and I wanted to ensure he knew survival skills while in the water! He had such a great time learning and even is excited to practice at home. I would recommend Coach Sally to anyone! -- KDR